MAX 100-150KTL3-X LV/MV Troubleshooting
Fault Reading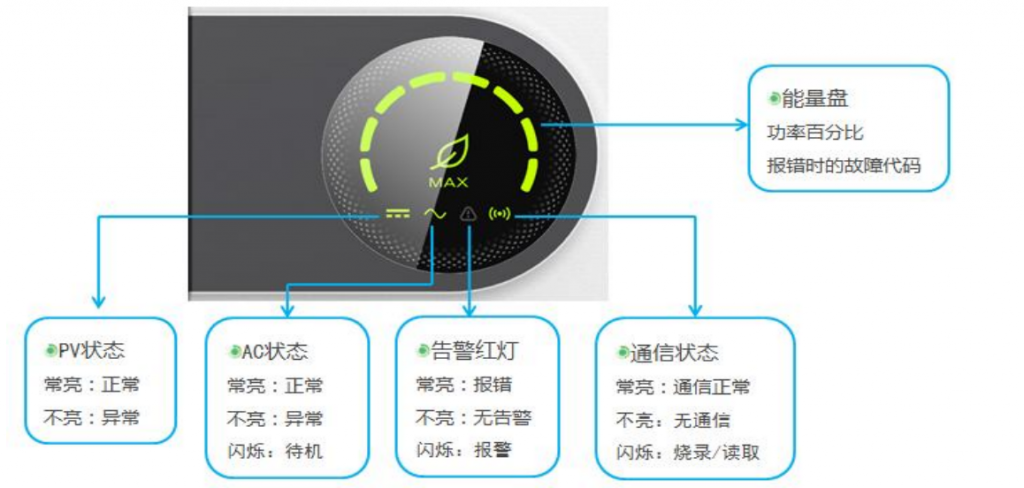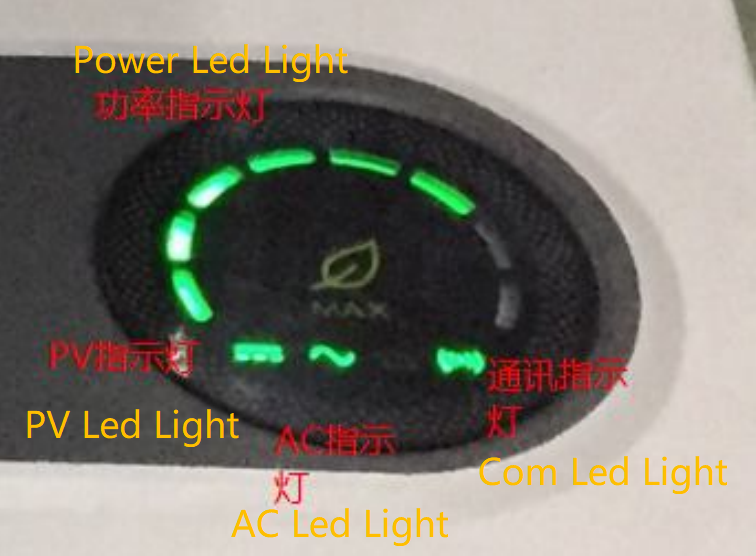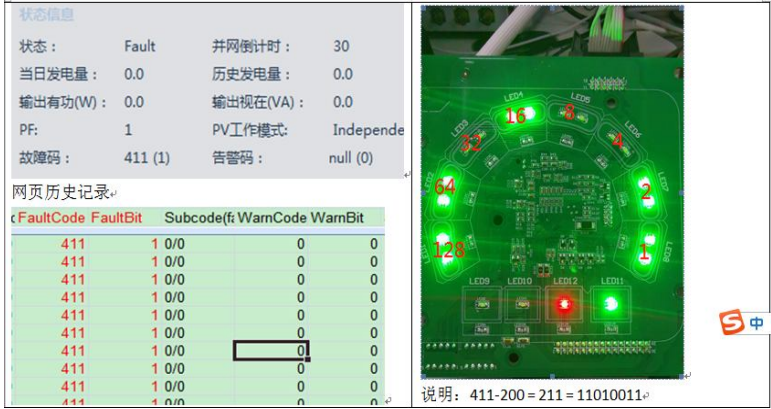 As shown in the figure: If inverter goes into fault mode, every led light represent one number, from right to left , it is 2 to the zero power, 2 to the 1 power, 2 to the 2 power, , 2 to the 3 power ,.. until 2 to the 7 power.
Then you can caculate the fault code based on green on led light , and sum them and add 200( It is fixed value for MAX 100-150KTL3-X LV/MV ), you will get fault code. For example, in the picture, 1+2+16+64+128=211, then 211+200=411 fault code
Based on the fault code, you can search the fault code in user manual and find malfunction description.
Fault Code
Error 200
AFCI Fault
Error 201
Residual I High
Error 202
PV Voltage High
Error 203
PV Isolation Low
Error 204
PV Reversed
Error 300
AC V Outrange
Error 301
AC terminals reversed
Error 302
No AC Connection
Error 303
NE abnormal
Error 304
AC F Outrange
Error 400
DCI bias abnormal
Error 401
DC Voltage High Fault
Error 402
Output DC current too high
Error 403
Output current unbalance
Error 404
Bus sample fault
Error 405
Relay fault
Error 406
Init model fault
Error 407
AutoTest failure
Error 408
NTC Temperature too high
Error 409
Bus voltage abnormal
Error 411
Communication fault
Error 412
Temperature sensor abnormal
Error 413
IGBT drive fault
Error 414
EEPROM fault
Error 415
Internal power test fail
Error 416
Over current protected
Error 417
System protocol abnormal
Error 418
firmware version abnormal
Error 420
GFCI Module damage
Error 421
CPLD abnormal
Error 422
Sampling is inconsistent
Error 425
AFCI self-test fault
Error 426
PV current abnormal
Error 426
PV current abnormal
Error 427
AC current abnormal
Error 428
Boost Short Out
Error 429
Bus voltage softstart fail
Warning Code
Warning 200
String Fault
Warning 201
String abnormal
Warning 202
DC SPD warning
Warning 203
PV Circuit short
Warning 204
Dry connect function abnormal
Warning 205
PV Boost driver abnormal
Warning 206
AC SPD warning
Warning 207
USB Over-Current
Warning 208
DC Fuse Open
Warning 209
PV Voltage High
Warning 210
PV Reversed
Warning 300
No AC Connection
Warning 301
AC V Outrange
Warning 302
AC F Outrange
Warning 310
NE abnormal
Warning 400
Fan warning
Warning 401
Meter abnormal
Warning 404
EEPROM abnormal
Warning 405
Firmware version abnormal
Warning 406
Boost module error
Warning 407
Over Temperature
Warning 408
NTC broken
Warning 409
Reactive abnormal