African Staffs Reimbursement
Attention, Please! Account dep. has posted new reimbursement rule, for delayed reimbursement, please complete them before end of Aug. Or your reimbursement will be deduced. Here attached specifical rule.

Reimbursement time limit: In principle, the expenses incurred in the current month will be reimbursed within the current month, and the borrowed travel expenses will be reimbursed within 7 working days after the return, and other expenses should also be reimbursed within 7 working days after the occurrence; Stationed overseas staffs and staffs for business trips more than 1 month should submit a summary report on a monthly basis. In principle, the reimbursement form should be submitted before the 10th of the next month for reimbursement of the expenses of the previous month. The financial deferred reimbursement can be deducted according to a certain percentage approved by the postponement time: 20% of the reimbursement amount will be deducted for one month's delay, 50% of the reimbursement amount will be deducted for two months' delay, and the financial department can reject the reimbursement form for three months' delay. Before the 2nd of each month, each department shall report to the Finance Department a detailed summary of the unreported expenses of the previous month, and the expense accountant shall make the accrual of expenses.
费用报销时间限定:原则上当月发生的费用当月报销,借支差旅费的返回后7个工作日内报销,其他费用同样应当在发生后的7个工作日内报销;常驻外地的以及出差时间1个月以上的人员,以月为单位汇总申报,原则上次月10号之前提交报销单报销上月费用。延期报销的财务可以根据延期时间核定一定比例进行扣减:延期一个月扣减20%报销金额,延期二个月扣减50%报销金额,延期三个月,财务部可以拒收报销单。每月2日前各部应向财务部报备上月未报费用明细汇总表,费用会计应作费用的预提。
1.African reimbursement Stardard
| | | | |
| --- | --- | --- | --- |
| | African Countries | Accomodation | Food subsidy |
| | Diego Garcia (US), Mauritius, Mayotte (French), Morocco, Namibia, Pantelleria (Italian), Reunion (French), Saint Helena, Ascension and Tristan da Cunha (British), Seychelles, Socotra Islands (also), Tunisia | 100 USD per day | 20 USD per day |
| | Botswana, Cape Verde, Egypt, Kenya, Lesotho, Swaziland, Zimbabwe, Republic of South Africa | 110 USD per day | 20 USD per day |
| | Algeria, Angola, Benin, Burkina Faso, Burundi, Cameroon, Central African Republic, Chad (Chad), Comoros, Côte d'Ivoire, Democratic Republic of the Congo, Djibouti, Equatorial Guinea, Eritrea, Ethiopia, Gabon, The Gambia, Ghana, Guinea, Guinea-Bissau, Liberia, Libya, Madagascar, Malawi, Mali, Mauritania, Mozambique, Niger, Nigeria, Republic of Congo, Rwanda, Sao Tome and Principe, Senegal, Sierra Leone, Somalia, Somaliland, South Sudan, Sudan, Tanzania, Togo, Uganda, Western Sahara (Saharan Arab Democratic Republic), Zambia | 130 USD per day | 20 USD per day |
2. reimbursement Form
Please claim Traveling place, purpose, client names and other explanations clearly and use local currency for your reimbursement.
3.Prepare all invoices for your reimbursement
4. submit reimbursement application on oA System
a. Access OA System
http://oa.growatt.com:88/wui/index.html?v=1661154782923#/?_key=zm2j80
b. Select icon below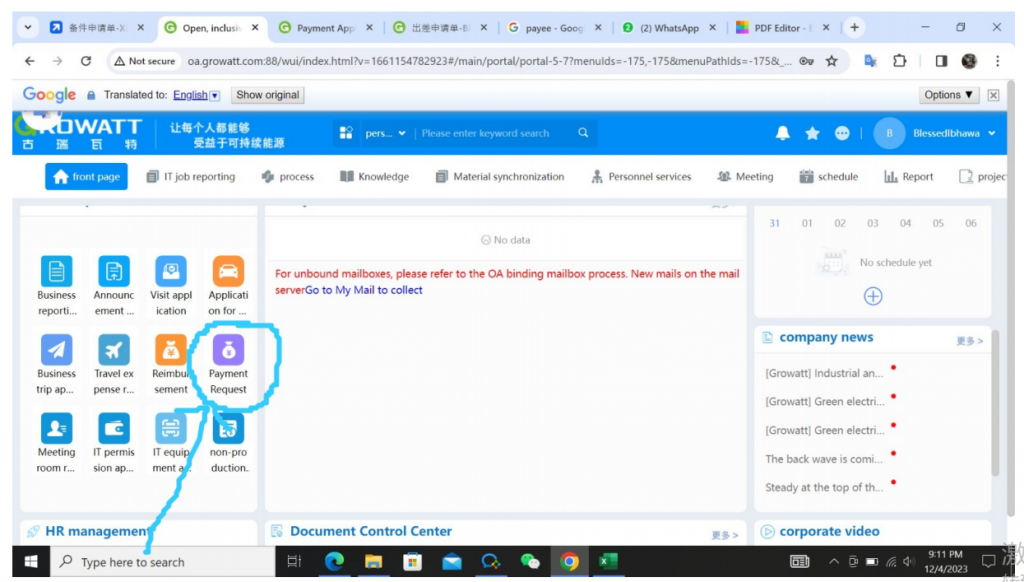 c. Fill in Payment Application Process